Zirconium Tubes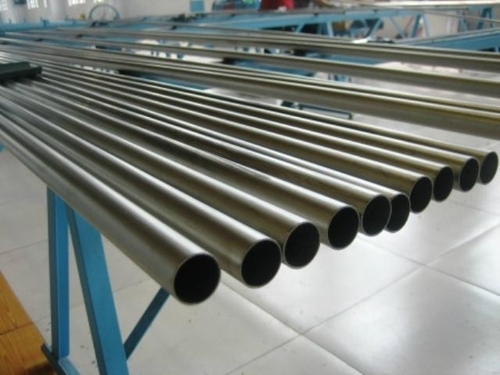 Zirconium Tubes
Price And Quantity
Piece/Pieces

10.00-10000 USD ($)
Product Description
Since our inception in 1992 in the industry, we are engaged in manufacturing and exporting a superior quality range of Zirconium Tubes. These pipes are prudently manufactured by our expert professionals using best quality materials as per the industry laid quality norms. These pipes find their extensive usage in the chemical industry. Offered Zirconium Alloy Tubes are can be availed by our clients in diverse sizes, lengths and widths according to the application.


Features:


High strength
Resistant to rust
High temperature withstanding capacity
Zirconium is extracted from beach sands (as is Titanium). It is a Group 4 metal which is available in a limited range of shapes and sizes.
Zirconium Sheet And Plate :ASME SB 551- R60702 R60705
Zirconium Tubing - Seamless : ASME SB 523 - R60702 R60705
Zirconium Forgings : ASME SB 493 - R60702 R60705
Zirconium Bar : ASME SB 550 - R 60702 R60705
Zirconium Products
Grade 702 R60702
Grade 704 R60704
Grade 705 R60705
Grade 706 R60706


Reactor Grade

Material Standard Country


ERZr2 R60702 ASME USA
ERZr3 R60704 ASME USA
ERZr4 R60705 ASME USA
SB-493 Grade R60702 ASME USA
SB-493 Grade R60704 ASME USA
SB-493 Grade R60705 ASME USA
SB-523 Grade R60702 ASME USA
SB-523 Grade R60704 ASME USA
SB-523 Grade R60705 ASME USA
SB-550 Grade R60702 ASME USA
SB-550 Grade R60704 ASME USA
SB-550 Grade R60705 ASME USA
SB-551 Grade R60702 ASME USA
SB-551 Grade R60704 ASME USA
SB-551 Grade R60705 ASME USA
SB-551 Grade R60706 ASME USA
SB-658 Grade R60702 ASME USA
SB-658 Grade R60704 ASME USA
SB-658 Grade R60705 ASME USA
702C (R60702) ASTM USA


| | |
| --- | --- |
| ASTM | SPECIFICATION |
| ASTM B 493 | Zirconium and Zirconium Alloy Forgings. |
| ASME SB-493 | Zirconium and Zirconium Alloy Forgings. |
| ASTM B 494 | Primary Zirconium |
| ASTM B 495 | Zirconium and Zirconium Alloy Ingots. |
| ASTM B523 | Seamless and Welded Zirconium and Zirconium Alloy Tubes for Condensors and Heat Exchangers. |
| ASME SB-523 | Seamless and Welded Zirconium and Zirconium Alloy Tubes for Condensors and Heat Exchangers. |
| ASTM B 550 | Zirconium and Zirconium Alloy Bar and Wire. |
| ASME SB-550 | Zirconium and Zirconium Alloy Bar and Wire. |
| ASTM B 551 | Zirconium and Zirconium Alloy Strip, Sheet and Plate. |
| ASME SB-551 | Zirconium and Zirconium Alloy Strip, Sheet and Plate. |
| ASTM B 614 | Recommended Practice for Descaling and Cleaning Zirconium. |
| ASTM B 653 | Seamless and Welded Zirconium Alloy Weld Fittings. |
| ASTM B 658 | Seamless and Welded Zirconium and Zirconium Alloy Pipe. |
| ASME SB-658 | Seamless and Welded Zirconium and Zirconium Alloy Pipe. |
Contact Us
No.302, Baotai Road, High-Tech Zones, Baoji, Shaanxi, 721013, China
Phone :+8613992798504